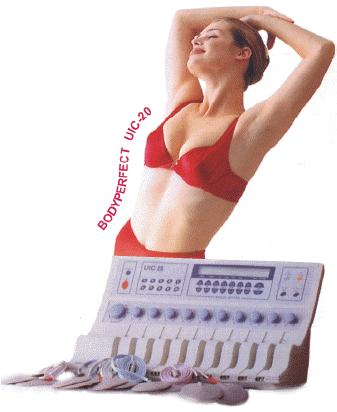 THE BEAUTY OF BODYPERFECT IS THAT ONCE YOU HAVE SET UP YOUR CLIENT YOU ARE FREE TO CONTINUE EARNING WITH OTHER SERVICES PROVIDED BY YOUR BUSINESS AS YOU DO NOT HAVE TO STAY WITH YOUR CLIENT ONCE THEY ARE ON BODYPERFECT.

SPECIAL OFFER ON ONE AVAILABLE BODYPERFECT UNIT.
BRAND NEW, IN BOX WITH ALL ACCESSORIES
HALF PRICE - $3495.00
Contact Joy via email - info@finerface.com
or phone:
USA: 1 646 417 2536
AUSTRALIA: 1800 63 64 63
BodyPerfect is one of the most advanced computerized body sculpting units that is years ahead of its time...technology of the future that does the thinking for you. Ten outlets supply twenty pads, with individual intensity controls, and a master output dial which allows a uniform increase or decrease of intensity to all areas being treated. A safe start feature will automatically prevent the start of a treatment until all dials are set to the off position. You can select one of ten pre-set programs, devise you own special program to suit your client's needs or key in one of 12 professionally designed treatments which Finer Figure will supply you with during training. It is as simple or sophisticated as you choose. With such great results and affordable toning packages, the return of revenue is extremely attractive and profitable.
BodyPerfect offers excellent results for both women and men who are at different levels of fitness providing the body with the correct exercise level to enhance body shaping and fat burning. The reciprocal wave pattern designed for each program will keep the body working at different levels through-out the treatment which means it will accelerate the metabolism, burn more calories, reduce fat and tones muscles, giving your clients an optimum result.
One of the main benefits of BodyPerfect is that you do not have to stay with your client through-out their treatment which means you are free to book in and attend to other client whilst BodyPerfect is working for you.
OPERATING BENEFITS
Light in weight

Easy to move from one treatment room to another

Ideal for mobile therapists

Bi-phasic & Mono-phasic wave forms

Reciprocal Wave Form (which means it changes through out the treatment to
give your client better results).

Individual intensity controls for each pad

Master dial which turns all of the 10 pads up together

Safety start feature which will not allow you to operate the unit until all dials
are turned off

Synchronized feature which allows all 10 pad to work simultaneously

Alternating feature which allows pad 1, 3, 5,7 & 9 to work and then pad
2, 4, 6, 8 & 10. This ideal for women and men who want to further enhance their muscles if they are body
building at the gym.

Timer which controls the period of operation and automatically stops the treatment once the set time is up.

Counter which automatically counts the number of contractions - "ideal to know how many sit-ups you have
achieved in your session"

No Sick Days

No Holidays

No Taxes