FACTS ABOUT THE FINER FACE MICROCURRENT UNIT

Finer Face Microcurrent is a battery operated, portable microcurrent unit that uses a patented alternating tsunami wave form which works in harmony with the naturally occurring bio-electric current of the body. This unique current will achieve instant visible results on sagging muscles and skin tissue, and best of all it is totally painless and non-invasive.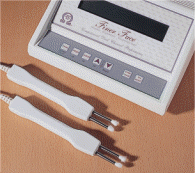 Finer Face operates on the principle that electricity, in low currents, actually stimulates and tones tissue, muscle and
even activates new bone growth.
For over 20 years microcurrent has primarily been used for medical purposes, mostly in the field of physical therapy to stimulate paralysed muscles. Some surgeons have used it to aid in the regeneration of new bone growth. Doctors have treated sports injuries and temporomandibular joint (TMJ) pain, migraines, burns, and post surgical and trauma pains.
In the 1984 Los Angeles Olympics, the use of electric micro stimulation won national attention when Dr. Robert Picker used microcurrent on Olympic athletes Mary Kay Decker and Joan Benoit. According to Dr. Picker, "Areas of trauma and injury have lost a measure of their electrical potentials and thus become electrochemically undercharged and metabolically sluggish. By feeding injured tissues electrical energy within an optimal bioelectric range, their electrical potentials can be restored, which in turn sets the stage for rapid clinical recovery." With the microcurrent low frequency electrical stimulation is applied to the injured site is picked up by the body's internal communication system, which signals the appropriate cells to "re-educate" or grow, develop and repair.
Finer Face has become widely popular among cosmetologists and aestheticians as an effective non surgical face lift process to lift sagging jowls, diminish smile lines and small facial wrinkles (crow's feet) around the eyes and between the brows.
The extremely low electrical current (microcurrent) used by Finer Face penetrates the protein (enzymes) within the individual cell of the muscle and creates a feedback to the nucleus that in turn reactivates the genetic life force within each cell. The original firmness returns to the muscle fiber, thereby correcting the sag in the muscle, which in turn corrects the sag of the skin as the facial muscles are attached directly to it. In essence, the computer-controlled microcurrent toning unit gently tightens and strengthens the muscles of the face and neck.
Finer Face revitalizes the natural regenerative processes of the facial and neck tissues, minimizes large pores, and increases peripheral blood circulation to the area, noticeably improving color and complexion, thereby creating a more rested and youthful appearance.
You are guaranteed to see a visible difference after just one session. Finer Face smoothes out fine lines and wrinkles and produces a radiance and skin tone which goes on improving for at least 24 hours.
The body is like a machine run by electrical signals and that includes the muscles in the skin. Tone and elasticity are controlled by chemical reactions within and between the cells. These reactions are triggered by electrical impulses, which grow weaker as the body ages. Finer Face uses tiny electrical impulses to reprogram and educate the muscles of the face and neck, to stimulate the skin's elasticity and improve peripheral blood circulation. This helps smooth out wrinkles by stimulating the body's own collagen manufacture promoting a fresh, vibrant, healthier appearance. You will not only look better, with a more youthful appearance, but will feel so much better about yourself. Treatments are not only painless, they are one of the most relaxing experiences you could imagine. In most cases you will probably fall asleep.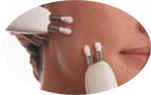 There is no pain or heavy pressure from the two cotton tipped probes. The minute microcurrent voltage used means there is none of the unpleasant stinging sensation associated with less sophisticated equipment.
NO PAIN
NO REDNESS
NO SWELLING
NON INVASIVE
NO DOWN TIME
RADIANT GLOWING SKIN
NO HARMFUL SIDE EFFECTS
AN ABSOLUTELY BEAUTIFUL RELAXING TREATMENT
NOTE: SIMILAR UNITS RETAIL FROM $10,000.00 UP TO $25,000.000!