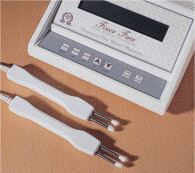 So why should you choose Finer Face over the other Microcurrent units available on the market?
When you choose Finer Face for your business you deal direct with the owner, Joy Kingston and not just some receptionist who answers the phone only to tell you the person you need to speak to isn't in and you have to leave your phone number only to find that for the next few weeks you keep receiving un-necessary sales calls. At Finer Face we don't hassle you, when you ask a question you get an answer immediately.
If you should choose Finer Face then you are professionally trained and certified and not just trained by some young inexperienced employee who thinks they know everything. By choosing Finer Face I can assure you and your business will be off on the right foot, as no stone is left unturned with my training. I guarantee you will be as good as I am by the time I leave your premises and should you need to look back on some part of the education course you will have a DVD, manual and sequencing guide to refer back too. Finer Face has been dubbed the best training world wide and is recognized through colleges to train teachers. I can honestly say I am extremely proud of my business and Finer Face.
I have been asked many times, "why do prices of microcurrent units vary so much", it's plain and simple and you get what you pay for. If you're looking at lets say something off eBay from Taiwan for $300 or $400, yes it's cheap and probably nasty too. You purchase it, it arrives in the mail with a manual that has tried to be converted into English and does not make any sense, what are you going to do and who are you going to call? The answer is right there in front of you, once you have made your purchase it all over and you're stuck with a machine that you don't know how to use, so how can you expect to sell or even perform treatments to a paying client when you don't know what you are doing. At Finer Face I am here to personally help you 24 hours per day, 7 days per week.
Finer Face is my own company and I live and breathe for it. I only specialize in facial and body muscles that way I can be a perfectionist and so can you. Before purchasing your facial toning unit look at the person and company you are dealing with and make sure you feel comfortable and don't just let some sweet talking sales person persuade you to buy by enticing you with special offers. Last week I just had 2 separate ladies call me regarding Finer Face telling me they had called another company about a different microcurrent unit and the price varied from $3500 to $8900, now this was for exactly the same machine so why was the price varying SO much? I hope you can understand what I am talking about, it's just ridiculous and its telling me what type of company that is. Ask yourself the question, would you trust a company like that?
When looking around at different types of units it is best not to ask other companies to compare their unit with different ones because of course they are going to tell you theirs is the best, so please make sure you do your homework and feel confident with the equipment and company you are doing business with, it's your investment.
Things to be aware of when doing your homework:
1. Microcurrent is not strong enough to tone the body muscles, microcurrent is for the face and neck only. If a company tells you their system does face and body then it is not a true microcurrent and will probably be too strong for the face.
2. If it works off the main power supply and not off batteries then it is too strong to be a true microcurrent as you can not get the current down low enough from the main power supply (120v or 240v).
3. If the current is more than 600 micro amps then it is too strong for the face.
4. If you get a physical contraction of the facial muscle then IT IS NOT MICROCURRENT and you can potentially weaken and pull the muscles off the skin causing the face to droop within hours of the treatment.
These are just a few questions you really have to ask so you can honestly compare different machines.
Below are just a few notations to consider about purchasing Finer Face for your business.
100% MICROCURRENT

Fully computerized

Totally non-invasive

Painless, your client will fall asleep through the treatment

Interferential cross current giving you better results

Dual tipped probes, once again, giving you better results

12 Pre-set program's available at the push of a button

Improves circulation and lymphatic drainage

Tightens, tones and lifts and re-educates the delicate facial muscles

Balances skin tone

Softens deep line

Depletes fine line

Exfoliates at a cellular level

Reduces scars and acne pitting

Reduces puffiness and dark circles under the eyes

Ionizes product into the reproduction level of the cell

Reduces pigmentation

Reduces acne and blackheads

Refines open pores

Disincrustation - deep pore cleansing

Enhances hair growth on the scalp

Hydro-Bath - which balances the body's meridian system

Light in weight

Fully portable "ideal for mobile therapists"

Battery operated - so it can be used in any country in the world

Full certified training at your premises with the owner of the Finer Face company - Joy Kingston

Timing indicator - so you know exactly how long to time each individual move to achieve the best results

Finer Face also has a full range of skin care that has been developed for use with microcurrent. This will ensure you that your clients will not break out or have any reaction due to chemicals or perfumes being infused that other brands may contain.
There are NO harmful side-effect, NO redness, NO pain and best of all,
NO RECOVERY TIME!
PLEASE NOTE: YOU DO NOT HAVE TO BE A QUALIFIED THERAPIST / esthetician TO OPERATE FINER FACE AS WE FULLY TRAIN AND CERTIFY YOU TO BE A MICROCURRENT THERAPIST.
WE CERTIFY TEACHERS TO TRAIN STUDENTS, SO WE ARE MORE THAN
CERTIFIED TO TRAIN ANYONE WISHING TO LEARN.
WE COME TO YOU FOR TRAINING NO MATTER WHERE YOU ARE IN THE WORLD.
IF YOU'RE A SALON OWNER, THERAPIST WORKING FROM HOME OR SOMEONE JUST WISHING TO PURCHASE FINER FACE FOR YOUR OWN PERSONAL USE THEN PLEASE TELEPHONE OR EMAIL
JOY KINGSTON - DIRECTOR
Warning: Beware of imitations!
Unfortunately, like with any good thing that works, many people over the years have tried to copy Joy Kingston's work, equipment and training. All of them have failed because they do not have years of research, training and special techniques. So please be careful about claims of "ours is similar to Finer Face". Your business is not something to take a chance on!

CLICK THE LINK ABOVE FOR OUR CONTACT INFORMATION