FINER FACE CLEANSERS, EXFOLIATORS, MAKE-UP REMOVER & TONERS
Daily cleansing is possibly the most important part of your skin care routine. Your face is subjected to synthetic cosmetics, dust, fumes from traffic along with many other day to day things which clog pores and makes your skin look dull and lifeless.
All it takes is 2 minute twice a day to cleanse and tone your face and apply a serum & moisturizer, 1 minute once a week to apply a scrub to eliminate dead skin cells and ½ an hour once a week to apply a mask, this is a grand total of 59 minutes per week.
"Did you know there are 10080 minutes in a week". You have no excuse,
all it takes is approximately 1 hour out of your week, in the privacy
of your own home, to keep your skin in Finer Face condition.
Blueberry & Pomegranate Anti-Oxidant Scrub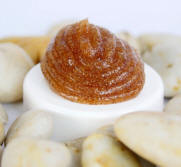 Blueberries and pomegranates load the skin with anti-oxidant and is also powered by Vitamins C & E, Cranberry, Rhubarb and Dandelion lend their youthening bioflavonoids to the blend to enhance a beautiful complexion. Jojoba beads, rose and hibiscus decongest the pores and exfoliate the skin to receive the oxygen enhancing vitamins and minerals found in the detoxifying berries and herbs that make up this gentle, refreshing, beautifully scented scrub.
SKIN TYPE: All
RESULTS: Gently polishes the skin without scratching, leaving it hydrated, silky soft and smooth.
APPLICATION: Using fingertips apply with a circular buffing motion with gently pressure for 1 to 2 minutes.If it becomes dry, wet hands with water and continue. Rinse with warm water and pat dry. Follow with your favorite Finer Face Serum and Moisturizer.
INGREDIENT LIST: Aqua, Blueberry, Cranberry Fibers, Pomegranate, Rhubarb, Aloe Barbadenis Leaf Juice, Olive Seed Exfoliant, Horsetail, Vitamin C & E, Centella Asiatica Extract, Wild Geranium, Organic Dandelion, Jojoba Beads, Hibiscus,Rose, Petitgrain, Tangerine, Phenoxyethanol (Preservative).