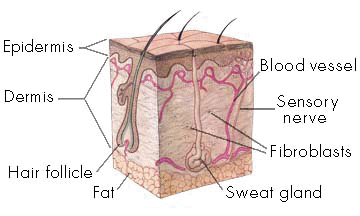 Determining your skin type
Is your skin normal, dry, oily or a combination of all of the above? The answer isn't always as simple as looking in a mirror. Many of us experience changes in our skin based on the climate we're in, our hormone levels, and how old we are. And since the current state of your skin will influence the products you choose to cleanse, moisturize, and protect your skin, it's important to get your skin type right.
Normal Skin is not too oily or dry and blemishes are uncommon. Your skin should feel vibrant, elastic, and supple. Normal skin is the least problematic type. It will have small pores, look clean and smooth and has a good circulation along with a healthy complexion. Even with a minimum care, it will look good well into your advanced age.
Oily skin is problematic – it usually looks greasy, thick, coarse, and shiny, has enlarged pores, and tends to break into acne. A good thing, though, is that oily skin is not prone much to aging and wrinkling. Careful cleaning, minimizing of carbohydrate consumption, and avoiding rich creams can be helpful in improving the quality of oily skin.
Due to sun exposure and aging, skin can lose its ability to produce moisture and natural oils. This results in dry skin. Though it may look smooth with fine pores and few blackheads or blemishes, it may feel flaky, dry, and tight after you have wash it and it may also have a leathery appearance. Dry skin can easily develop a sallow tone, wrinkles, and fine pores, and it is very prone to aging and irritation. It might still look great on a young person, but, to keep it healthy, you should apply thorough care and use regular skin or beauty treatment with natural masks, serums and moisturizers.
This skin type has an oily T-zone across the forehead, nose and sometimes the chin, but a normal to dry area around the cheeks, eyes and throat. Dry zones should be treated with hydrating serums and moisturizers while oily areas will benefit from frequent and thorough cleaning.
Lose skin tissue and visible wrinkles distinguish this skin type which develops due to biological changes in our body and the aging processes such as menopause. At this time of our life the cells regenerate slower and skin loses its elasticity and firmness. A good skin care regimen is vital to assist with the aging process.
Sensitive skin is usually very dry, tends to feel tight, and becomes inflamed and irritated easily. Typically, sensitive skin develops reddish and scaly areas, can be itchy and tingly, and is prone to breaking into spots. It is the most problematic and fragile type of skin, which needs a very special type of care and should never be over stimulated.
Acne skin is usually oily and distinguished by blackheads and pimples. If neglected these blemishes can advance to a worsened stage and leave the skin scarred and pitted skin. Proper care is absolutely essential.
If you have a serious skin problem you should see a dermatologist. Proper use of Finer Face skin care products can correct certain problems resulting in healthier looking skin.
Serums Moisturizers Masks Eye Care Cleansers Hands Feet Neck Hair Gels & Lip Balm

Jars, Bottles, Sponges & Spatulas Daily Regimen